Blog
April 2018 - VisitEngland Rating
Despite stricter marking criteria being introduced since the last certificate award, including size of rooms (something we, in our cosy cottage can do very little about!), we are delighted to have retained our four star rating from Visit England. Some nice comments were made about the re-decorated kitchen and the new bathroom, as well as the nice furniture! We've been working hard on updating the cottage and making it look as nice as possible, and we'll continue to improve it whenever we can, but it's nice to see that the good people from Visit England have recognised a lot of our efforts!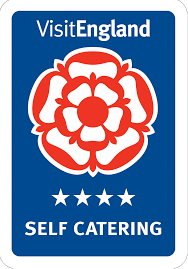 January 2018 - Village of the Year 2018
Delighted (but not surprised) to see Polperro as a candidate for Village of the Year on Channel 4. In the broadcast of 18th January (available to view on All4, Channel 4's catch up site, episode 4) Polperro was featured, and won the heat, progressing to the Semi Final!
The village was featured at length, a great opportunity to see for yourself just what a breathtakingly picturesque place this is, and why it is so popular with locals and tourists alike.
July 2017 - No Longer on Owners Direct
After a very successful first year with Owners Direct in 2015, and a more disappointing one in 2016, my current subscription has now ended and I have decided not to renew with this much transformed company.
Since being acquired by Expedia and taken under the wing of the US arm of HomeAway (it is slowly rebranding from Owners Direct to HomeAway over time), their business model has changed significantly, to the detriment of both property owners as well as travellers looking for a bargain holiday let. It's making a significantly increased amount of money, but this has been at the expense of taking more from travellers and giving less to property owners, and its not known whether their increased profits can be sustained given the number of property owners now currently making an exodus from the site.
The company have decided that they would like to control bookings, rather than the historic method of simply putting travellers directly in touch with the owners (the clue was in the name!) to arrange holiday bookings and prices/deals. It is now nigh on impossible for travellers to contact the owners directly, or for the owners to know who is attempting to book their holiday lets by establishing a direct dialogue with the prospective guest. In addition, they've added on a surcharge - initially capped at 9.6%, but significant nonetheless, which has now risen to almost double. This can add hundreds of pounds to the price of a holiday for a modest family, and a thousand or more onto large group bookings.
In return, say Owners Direct/Expedia, the traveller receives a 'book with confidence' guarantee which doesn't appear to amount to much more than you'd get by paying using a credit card anyway, and the internet and social media are now littered with horror stories regarding people who have run into serious and expensive problems when trying to invoke this guarantee when things have inevitably gone wrong with their bookings. It's even been featured on Radio 4's You and Yours programme. Most of the issues involve the fact that they use an unregulated third party payment provider to handle the money, who are outside of the jurisdiction of the UK Financial Ombudsman, and therefore it can be very hard to gain official support in the event of financial disputes with Owners Direct/HomeAway.
If you are still using Owners Direct to try and find a great deal for a self catering holiday property online, then be careful, and here's a few tips which could save you money and headaches!
When initiating a search for potential properties in an area that you are keen on, beware of the misrepresented search results featuring literally hundreds of irrelevant properties that are miles away from the area you are searching on. Owners Direct have introduced these erroneous properties in search listings in order to punish owners who are doing everything they can to resist adding the Owners Direct surcharges, and making sure that their properties are buried at the end of these huge irrelevant listings so that no one will ever spot them. There are two ways around this. Use the Google map on the search page and zoom in on the area you are searching on, with the 'search when I move map' button ticked. This will make most of the erroneous properties go away. Then go to the end of the search list and work backwards. All the owners offering surcharge free pricing are at the end of the list, so you'll find better rated properties at much better prices.
If you see a property you like on the website then find out as much information as you can from the entry, and then use Google to see if you can find a direct website for the property (like this one). Then make contact with the owner via that website rather than via Owners Direct. I can absolutely guarantee that you'll get a far better price using this method than by enquiring or booking via Owners Direct. It can be hundreds of pounds less in some cases.
Be aware of the lesser known listing sites which are now doing everything they can to fill the gap left by Owners Direct, by simply listing properties and enabling the traveller to contact the owner directly to negotiate dates and prices. They may take several years to build up a suitable portfolio of properties (and some may fall by the wayside trying), but the more enquiries they get, the more chance they have of succeeding and getting us back to the days when booking your own holiday accommodation could be fun, and great value for money!
Don't take my word for it, spend ten minutes or so on these websites and see for yourself!
Trustpilot Reviews - Owners Direct
March 2017 - Kitchen and Bathroom Refurbishment
After taking all of our guestbook comments into account about whether to retain a bath or replace it with a walk-in shower, we decided to retain a bath; albeit a shiny new one with a more modern and powerful shower unit. Builder Terry has done a great job, and has also refurbished the kitchen into something more modern and practical. Nice new ceramic wall tiles, and wood effect floor tiles, with new fittings, new oven and microwave, and a lovely wood effect work surface.
Pictures of the renovation are below:
Bathroom
The old bathroom: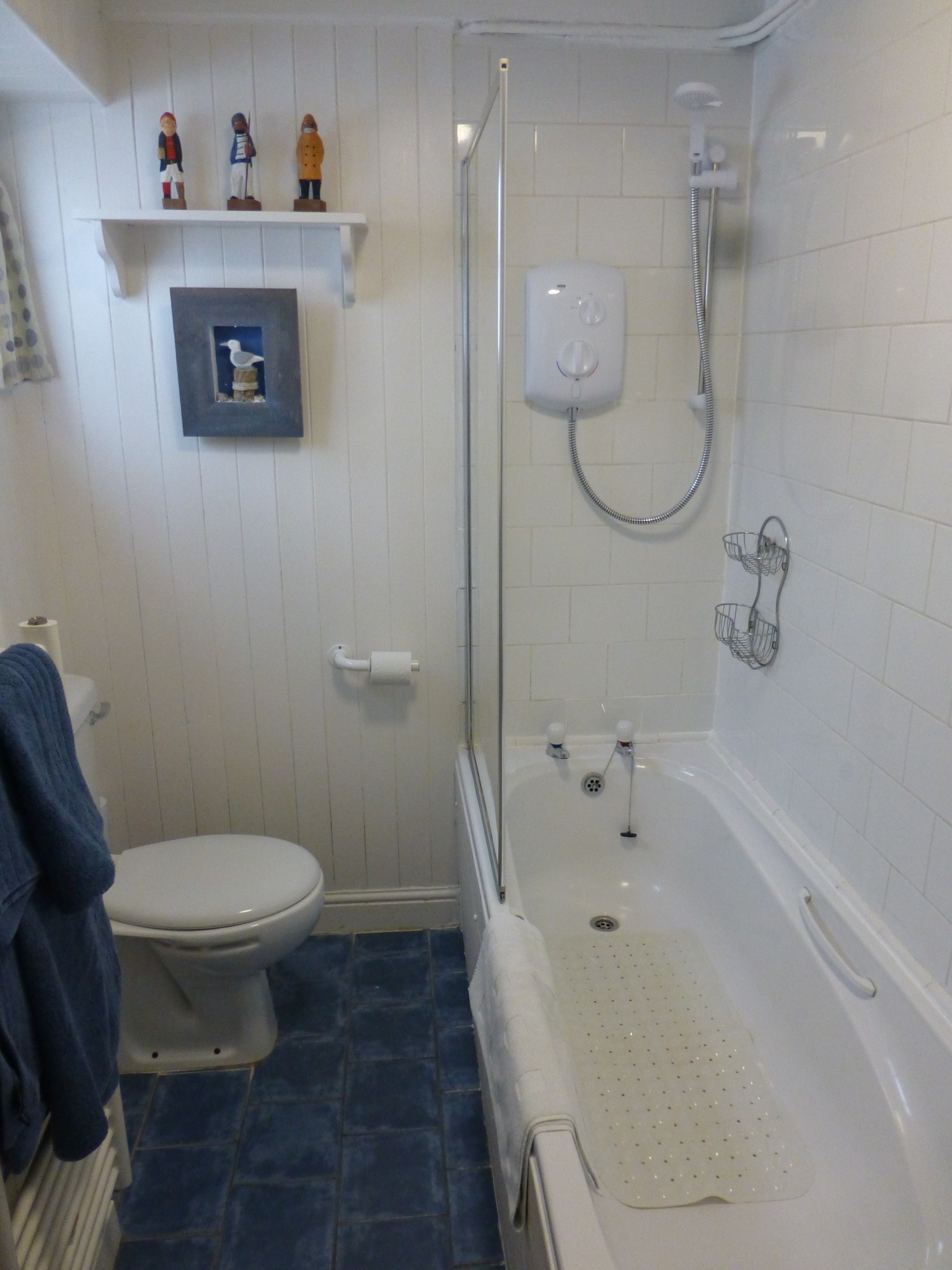 Rip everything out!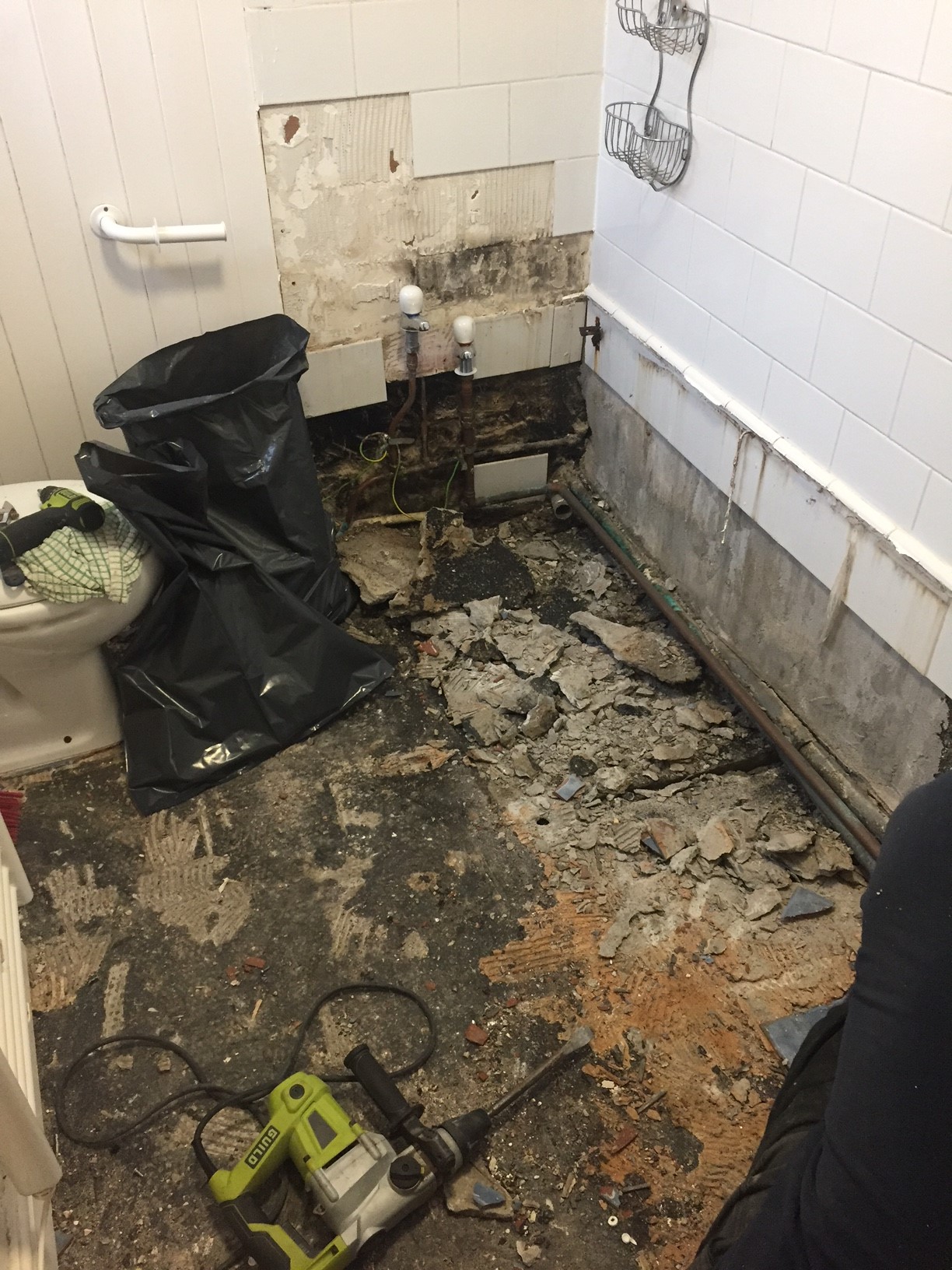 Re-tile and gradually put new stuff back: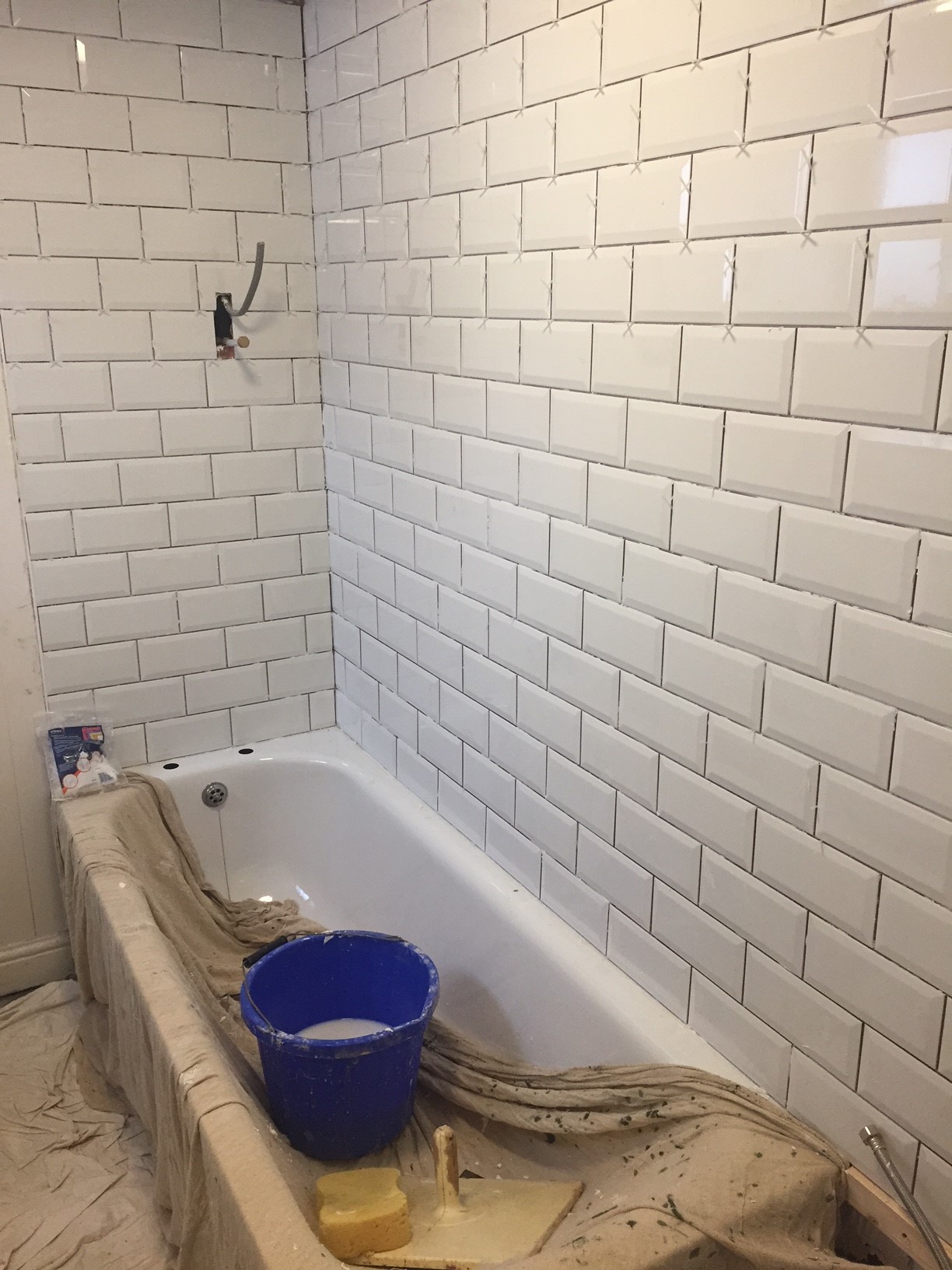 The new bathroom: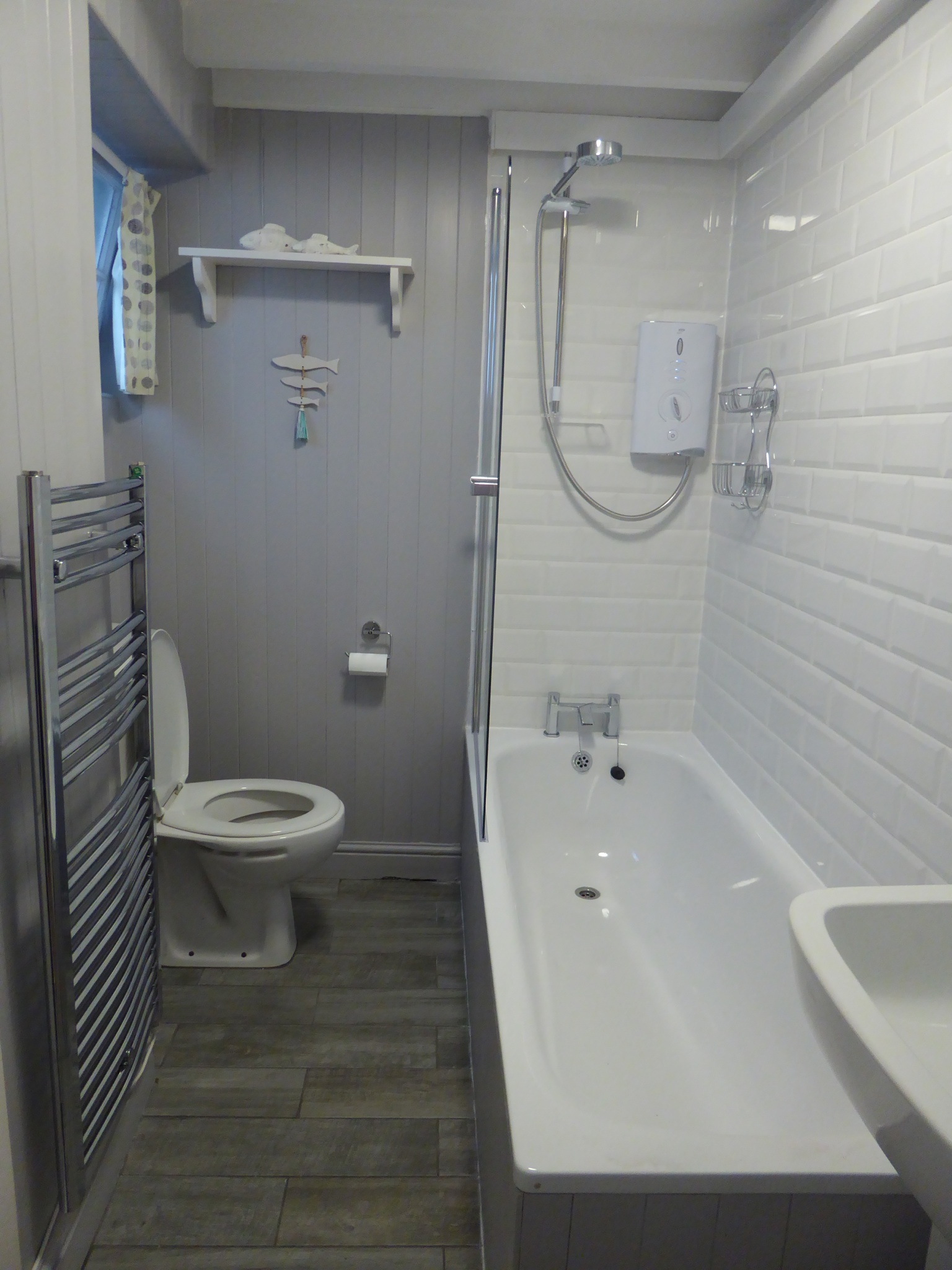 The Kitchen
The old kitchen: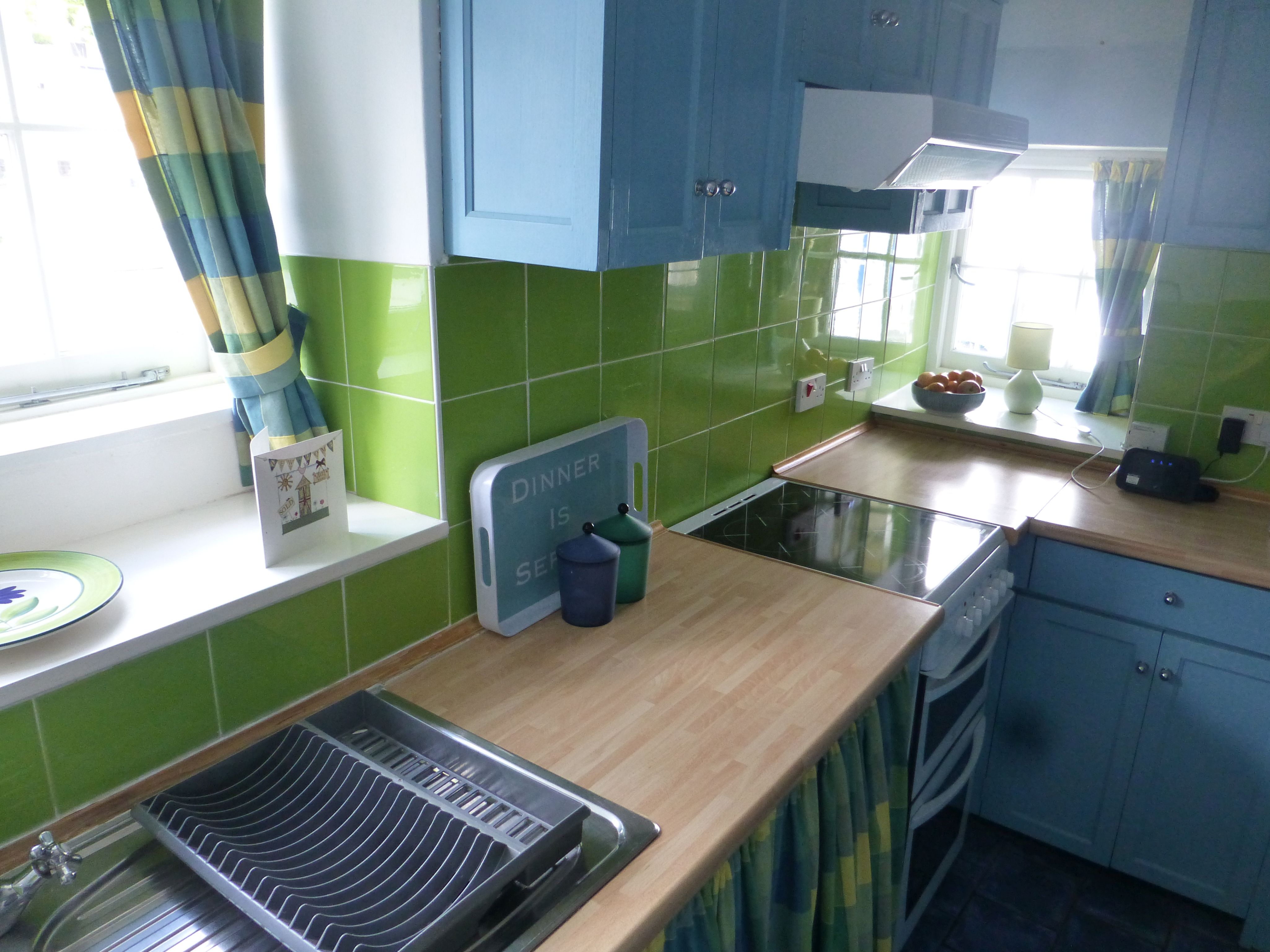 Rip everything out!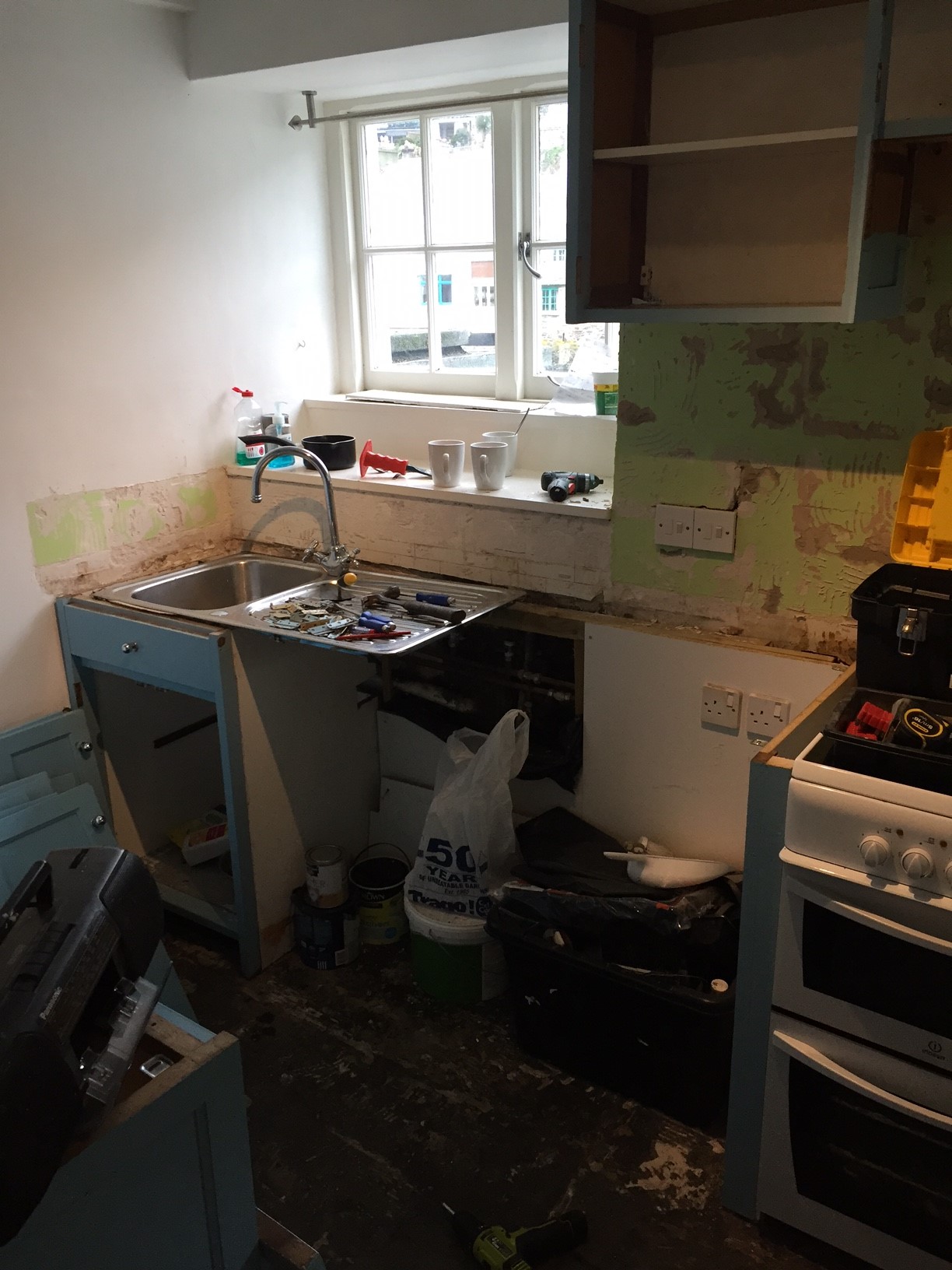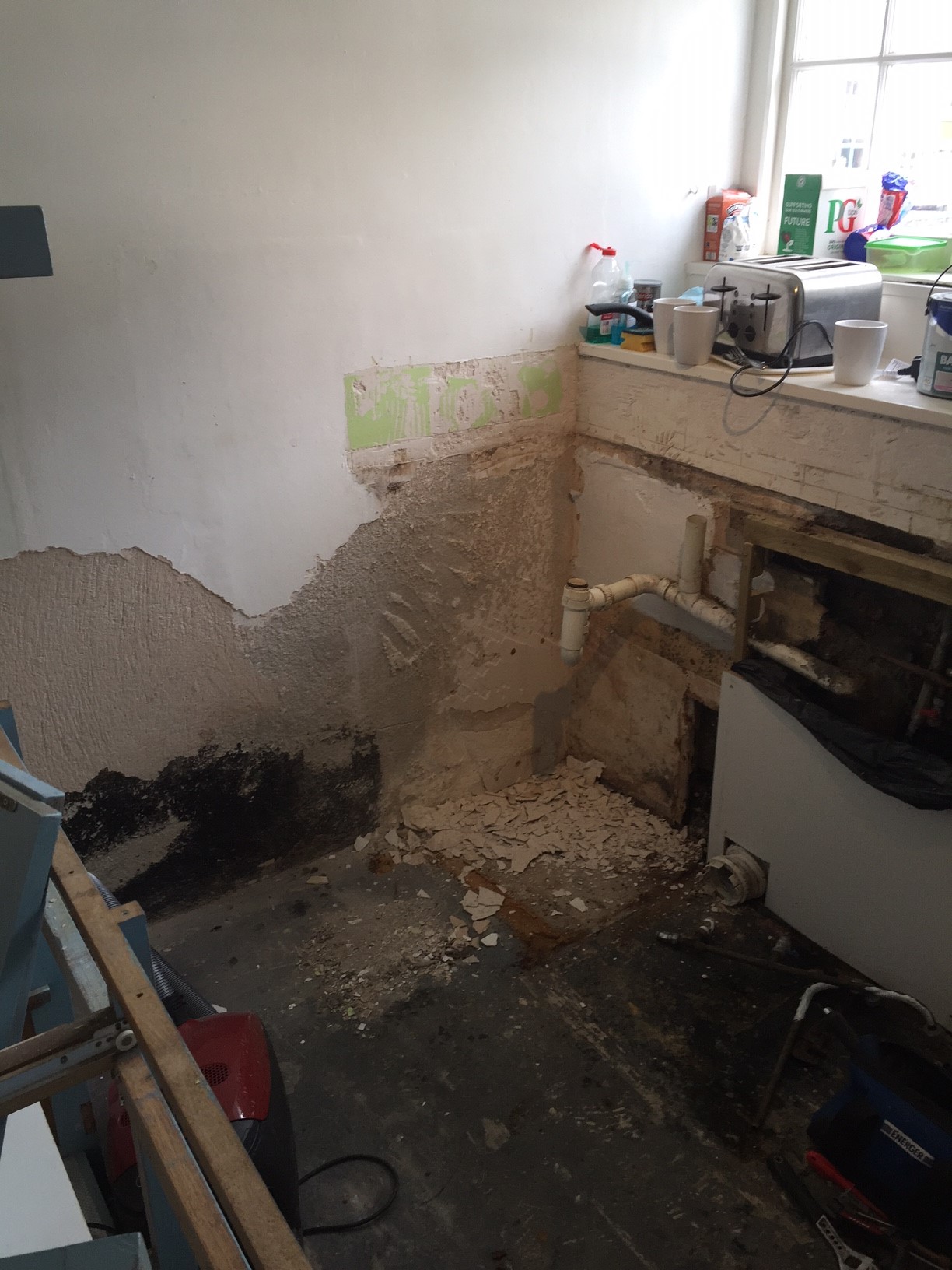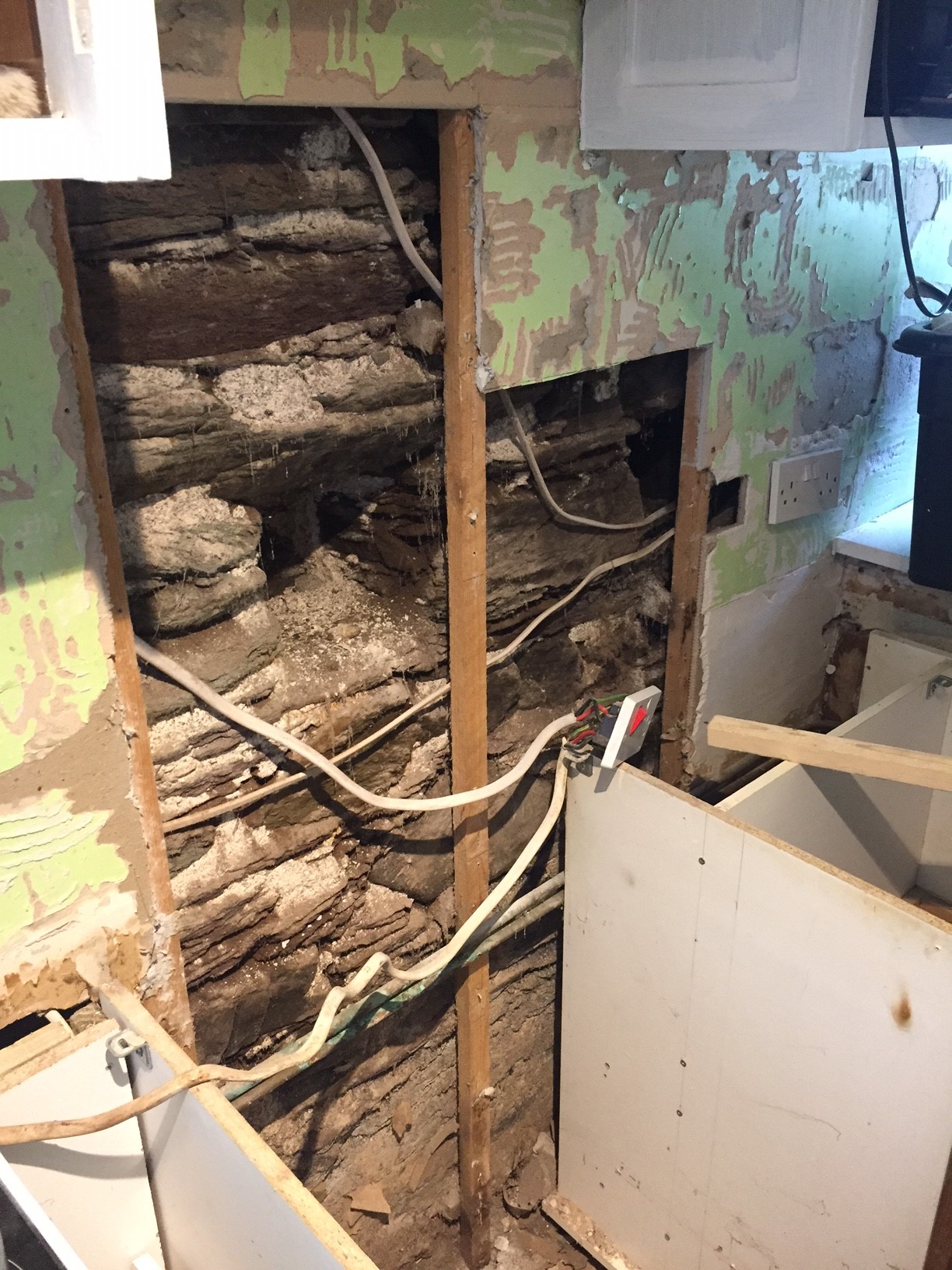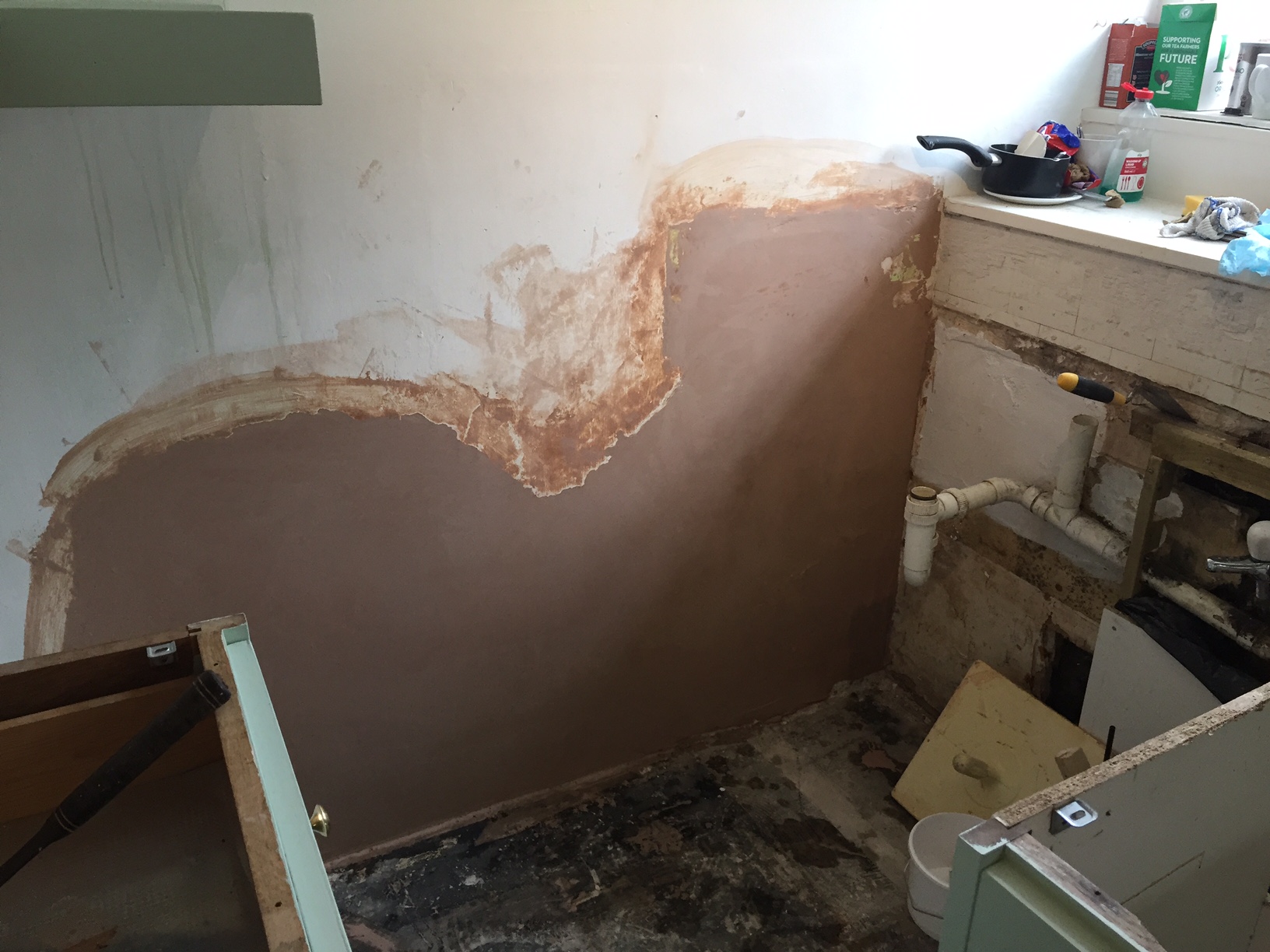 The new kitchen!!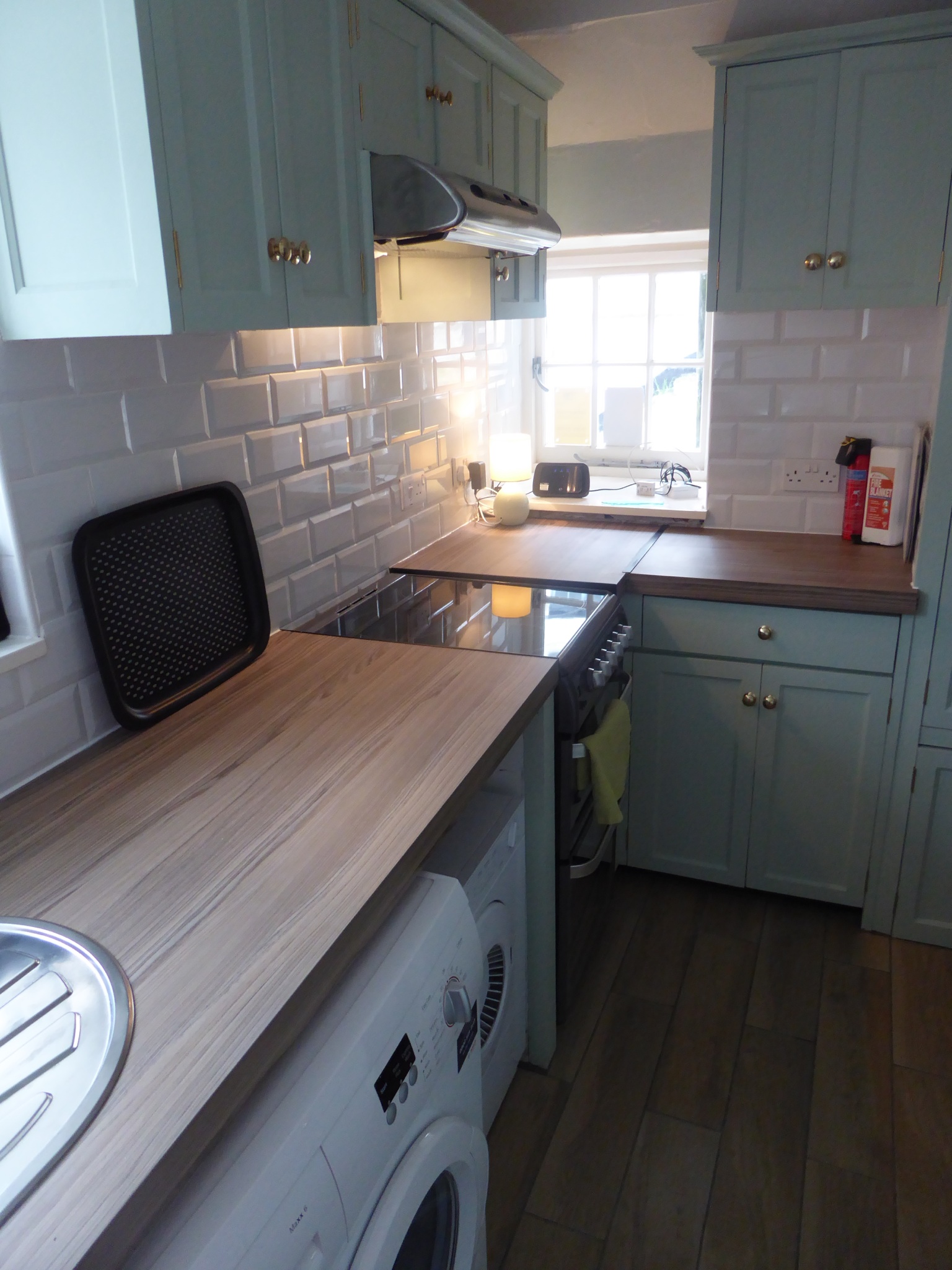 I hope the new guests like the transformation, we certainly do.
March 2017 - Noughts and Crosses Pub

After closing down in 2010, the Noughts and Crosses Inn in Lansallos Street looks to be re-opening at the end of March. There has been much building work going on inside, the exterior paintwork and signs have been spruced up, and a swanky new sign has appeared above the door! I'm looking forward to being able to visit this pub again, which has views out onto the River Pol on the other side, and will doubtless be another venue worth visiting in Polperro. 
August 2016 - Polperro Net Loft, Restored!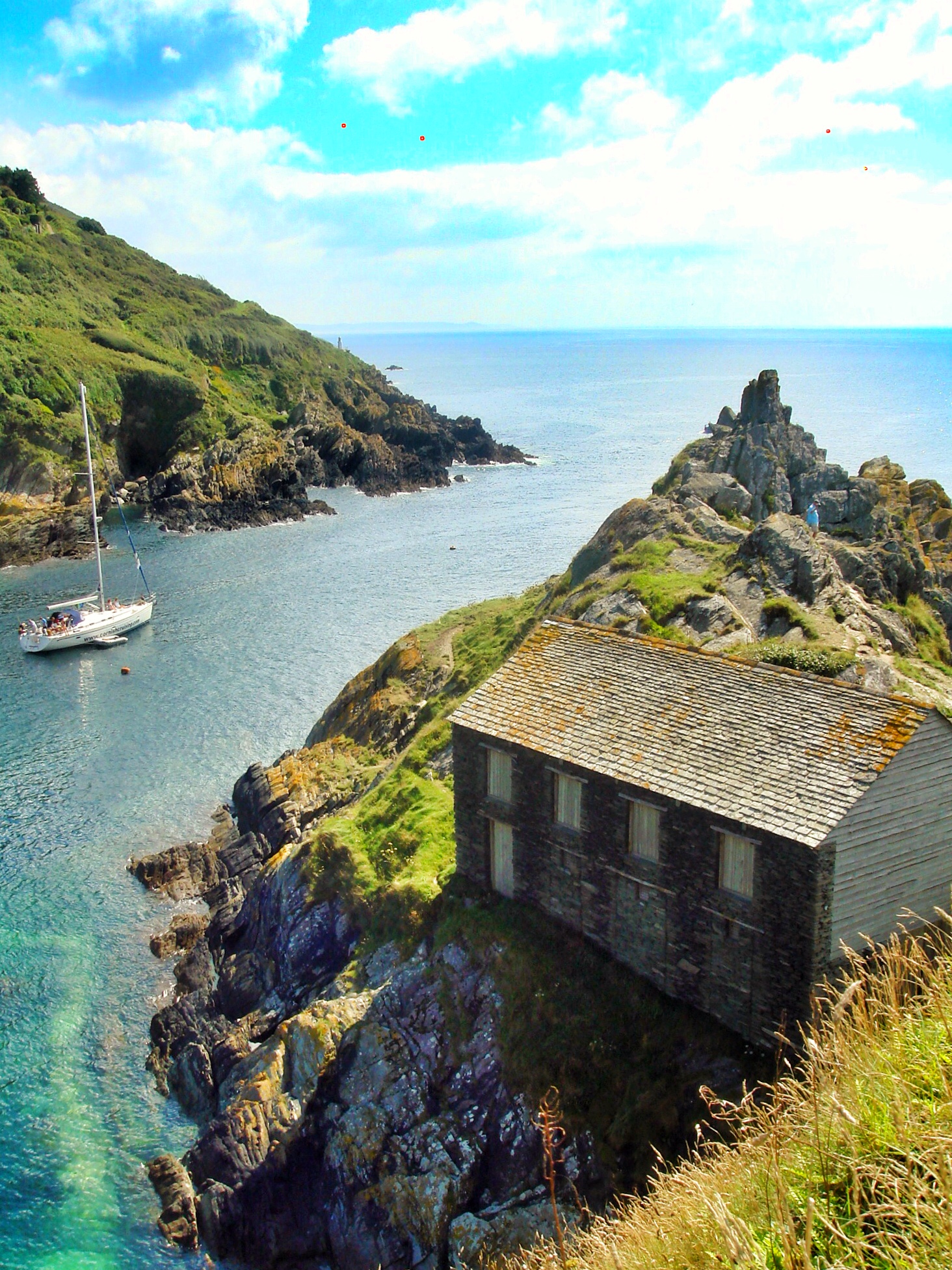 The iconic Net Loft, standing on the rocks just at the entrance to Polperro outer harbour is an oft-photographed building, and must feature in an awful lot of holiday snaps albums, but has always been relatively derelict close up.
Not any more. For the last twelve months the National Trust have been involved with a full restoration. This grade II listed building, once thought to be a Chapel and dating back 200 years, had fallen into disrepair, but is now fully restored and ready for opening. The building now has its own solar panel power source and low power LED lighting, and will be a community centre and host exhibitions and local information.
More details can be found here.